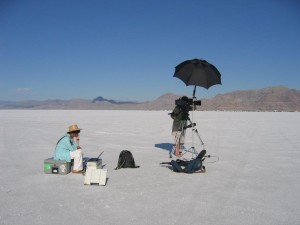 Every communications professional knows that PR events and announcements can turn into their worst nightmare. It's fine if your story is at the top of the news agenda, a 'must have' item for broadcast and print media that will make news almost regardless of your efforts (although your hard work and expertise will enhance the tone, content and extent of the coverage, not to mention the smooth running of proceedings). But what if your story falls into the 'nice to have' or, worse, the 'not really sure this one's worth the effort with everything else we have to do' category? How do you ensure that the considerable time and money spent isn't wasted because no-one turns up?
For over two decades at OLB we've been working with clients and broadcasters around the world to bring unusual and sometimes difficult to cover stories to TV, radio and now on-line audiences as well. To do this we provide satellite-based production facilities for live interviews that link a spokesperson direct into the studio to be interviewed by individual channels' own on-air presenters against a backdrop that adds to the story. On top of this we can distribute background footage and news agency edits produced to broadcast standards as the story unfolds. All this means that instead of waiting for the broadcasters to come to an event, we can take the story to them.
So, what makes people call us for an assessment? Here are some of the most common reasons:
Location: the story is taking place in a remote or hard-to-reach part of the world. We broadcast live from some pretty unusual places, often far away from the offices of major broadcasters and even the reach of news agency 'stringers'. Examples include the opening of Mozambique's first gas-to-power plant on the country's border with South Africa, the launch of Jeddah's Red Sea Gateway Terminal as Saudi Arabia opened itself up to the arrival of a 'megaship' for the first time, and JCB setting the World Diesel Land Speed Record on the Bonneville Salt Flats in Utah.
Safety: the story or its location has to be restricted for reasons of security or safety. TV and film crews can rarely operate without causing some disruption and cameras, lights and crew take up time and space, but we can guarantee control for projects such as the separation of conjoined twins in a Saudi Arabian hospital, where we broadcast live from the operating theatre during the course of a twenty-hour operation. In a very different scenario, we provided the one crew allowed to cover the re-opening of London's Paddington Station after a major rail disaster and made footage freely available to all broadcasters.
Security: sometimes we arrange interviews for world figures who require high levels of personal security.
Topicality, time and distance: the story may be good enough to attract broadcasters, but in the time it will take the local correspondent to get back to the office, edit a report and deliver it to their editorial hub (possibly on the other side of the world) it may be dropped in favour of something juicier from somewhere else.

Limited local resources: even if local reporters and crew plan to attend an event, at the last minute they may be diverted to cover a different story that the international editorial team decides is more interesting on the day.
Confidentiality: sometimes it's impossible to alert media to a story in advance without effectively leaking it. If necessary we have the ability to alert broadcasters without giving away who our client is.
We like a challenge, but we are always objective about whether or not we can add to a story. Ultimately the broadcasters' views are vital and if we don't think we can help we will be honest and say so.